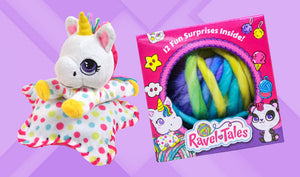 SUNNY DAYS
RAVEL TALES
Regular price
$13.99
$0.00
Each playset contains 12 surprises including button charms, pet's name tag, stickers, sewing needle, collector card, pillow bed, yarn for pom poms and bracelet crafts and a collectible plush character.

Create three fun friendship bracelets and one braided necklace for you and your new pet.

Show off your Ravel Tales collection and prove your craftiness by creating 2 pom poms. Clip one to your bag or backpack and share the other one with a friend!

Sew together your pets' very own pillow bed for them to lay on.

12 Ravel Tales to uncover, plus 2 Rare Ravellers with gold and sparkle details. Collect them all!